Western Wisconsin missed out on the first winter storm of the season and although we will not see a direct hit from the next system, we will definitely see more of an impact.
The busiest travel days of the year are upon us and Mother Nature is cooking up some headaches for travelers just in time for Thanksgiving.
Temperatures will be in the middle 30s meaning we can expect a mix of rain and snow to become widespread through the area Tuesday afternoon and evening switching over to mainly snow (especially north of Eau Claire) by about 6pm. The change to snow may happen earlier in our northern counties leading to higher total snowfall accumulations.
A WINTER WEATHER ADVISORY in effect for Clark, Price, Sawyer and Taylor counties valid from 6 PM Tuesday until 6 PM Wednesday. In Barron, Chippewa, Dunn, Eau Claire, Pepin, Pierce, Polk, Rusk and St. Croix counties the advisory is in effect from 6 PM Tuesday until 3 PM Wednesday. And in Washburn County, the advisory is in effect from 3 PM Tuesday until 3 PM Wednesday.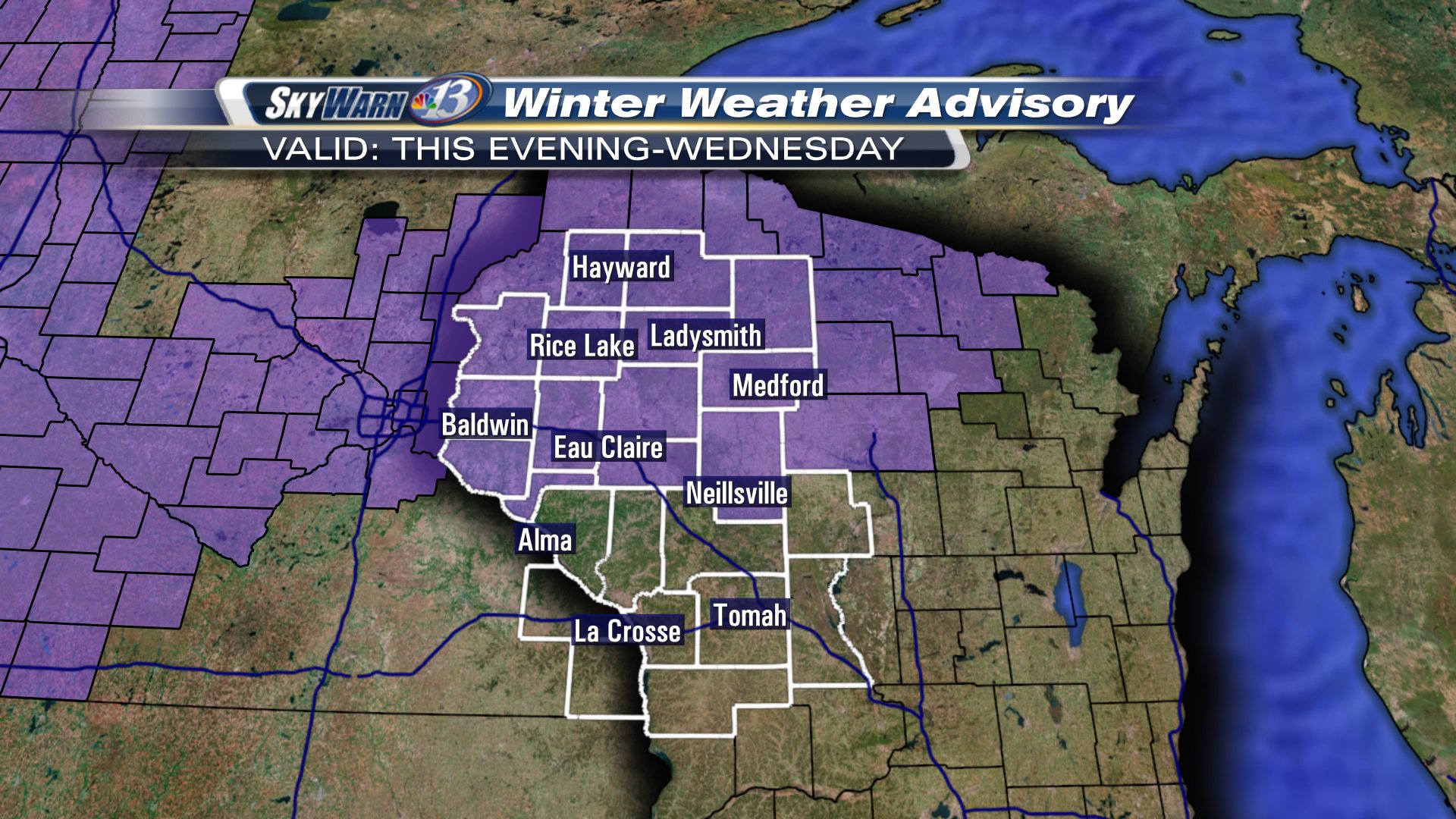 Most of the snowfall accumulation will occur overnight and into early Wednesday. It is now looking like we could see some freezing rain just in time for the commute Wednesday leading to slippery and sloppy road conditions. If you are planning to hit the road on the busiest travel day of the year and can wait a while, conditions will continue to improve through the day. Even better news is that Thanksgiving itself will be cloudy but dry...much better for travel!
Here is the latest expected snowfall accumulation map:

You can stay up to date on the storm right here on weau.com along with future newscasts and our WEAU Facebook page.
CLICK HERE for the WEAU Facebook page
Follow us on Twitter for weather updates:
@weau13news
@darrentvwxguy (Darren Maier)
@TheWxMon (Monica Ott)
@WeathermanDrew (Drew Williams)
CLICK HERE for our INTERACTIVE RADAR
CLICK HERE for statewide road conditions
CLICK HERE for instant info on watches/warnings/advisories