Eau Claire -- Snow is starting to wrap up in Western Wisconsin, but light snow and flurries will remain for the next couple of hours. Reported snowfall amounts have been a bit lower than first forecast, generally ranging between 2-6" across all of Western Wisconsin. Though the snow amounts have been a bit less, roads will remain slick into tonight, requiring travelers to slow down and take extra time getting around.
Winter Storm Warnings have expired across much of our region, but remain in effect for Crawford, Jackson, Juneau, Monroe, Taylor, and Vernon Counties until 6PM this evening.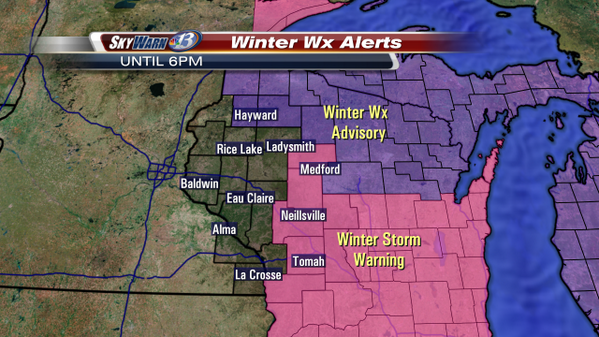 Though we've added some snowfall to a large pack already, this will actually be melting a bit the next few days. Sunshine is in the forecast, and so are milder temperatures, with highs reaching close to 40 into the midweek.
Check out our latest forecast right into the weekend right here on WEAU.com.
Here are a few helpful storm links providing current radar, closings, and road conditions in the region.
CLICK HERE for our INTERACTIVE RADAR
CLICK HERE for school closings/delays
CLICK HERE for statewide road conditions