A clipper system will be bringing snow to parts of Western Wisconsin beginning this evening and lasting through much of the night. The biggest impacts from this system, including the heavier snow and higher snow totals, will be felt south of I-94 including places like La Crosse and Winona. There will be some lesser impacts and lighter snow expected along and just north of I-94.
The snow will move in this evening and will likely become moderate to even heavy at times across parts of the Coulee Region (La Crosse area) after about 10 pm. The steadier snow will lead to reduced visibilities of less than 1/2 mile and slick roads overnight. The system is quick moving and the snow should end by 6 am Wednesday. While the snow will be gone for the morning drive to work and school, roads will still probably be snow-covered or at least slippery in many of our southern counties. So, you'll want to give yourself some extra time for that Wednesday morning commute.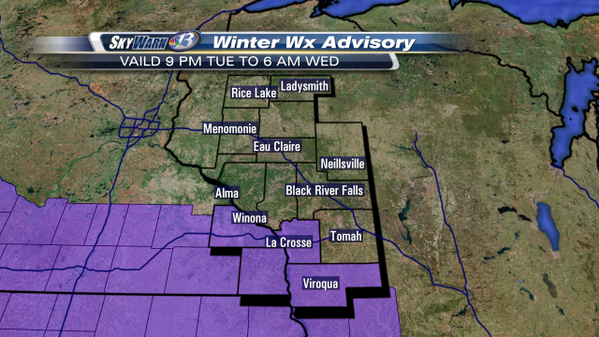 Due to the snow expected this evening and tonight a WINTER WEATHER ADVISORY has been issued for parts of the viewing area in purple starting at 9 pm tonight and running through 6 am Wednesday. Within the advisory area, a quick 2-4" is expected overnight. Locally 5" of snow is possible mainly in southeast Minnesota and possibly along parts of I-90. The snow totals will drop off fairly quickly as you head north. Along I-94 for places like Menomonie, Eau Claire, and Black River Falls, we are only looking at an inch or less. Meanwhile places farther north like Rice Lake, Ladysmith, and Hayward will miss out completely apart from a few flurries at most. Below is a more detailed look at projected snowfall tonight across the viewing area.
The track of this system will have to be watched closely for any shifts in snow totals. You can stay up to date on this clipper system right here on weau.com along with future newscast, SkyWarn 24/7 Weather, and our WEAU Facebook page.
CLICK HERE for the WEAU Facebook page
Follow us on Twitter for weather updates:
@weau13news
@darrentvwxguy (Darren Maier)
@WEAUHoffman (Matt Hoffman)
@TheWxMon (Monica Ott)
@WeathermanDrew (Drew Williams)
CLICK HERE for our INTERACTIVE RADAR
CLICK HERE for school closings/delays
CLICK HERE for statewide road conditions
CLICK HERE for instant info on watches/warnings/advisories
CLICK HERE for Wisconsin Emergency Management
CLICK HERE to upload storm pics to WEAU.com