The heavy accumulating snow is done. We could still see a couple of areas of light snow into early this afternoon, but the trouble for motorists now is the wind. There are scattered power outages throughout Western Wisconsin. The Eau Claire YMCA says they're opening their building for free today, to anyone who doesn't have power. You can stop by and take showers, warm up, get out of the cold.
CLICK HERE for our INTERACTIVE RADAR
This storm turned out to be one of the heavier snow producers of the season. Below you can see our prediction for this storm.
Here is a look at some of the totals from this storm so far thanks to the National Weather Service in Minneapolis:
INCHES LOCATION COUNTY
12.00 CLEAR LAKE POLK
11.50 RIVER FALLS PIERCE
11.00 CUMBERLAND BARRON
9.10 HAUGEN BARRON
8.00 MENOMONIE DUNN
8.00 STOCKHOLM PEPIN
7.50 HUDSON ST. CROIX
7.40 EAU CLAIRE EAU CLAIRE
7.20 NEW RICHMOND ST. CROIX
6.50 STOCKHOLM PEPIN
6.20 JIM FALLS CHIPPEWA
6.00 ELK MOUND DUNN
6.00 TONY RUSK
6.00 STILLWATER ST. CROIX
4.20 LADYSMITH RUSK
4.00 RICE LAKE BARRON
Thanks to more mixing with rain/sleet/freezing rain, the Coulee Region saw a lot less snow. Here are reports from the National Weather Service office in La Crosse per county.
...BUFFALO...
ALMA 5.0"
...CLARK...
OWEN 6.3"
ABBOTSFORD 2.8"
NEILLSVILLE 1.9 "
...CRAWFORD...
CLAYTON 0.5"
...JACKSON...
VAUDREUIL 3.1"
...LA CROSSE...
BURR OAK 3.5"
LA CROSSE 2.2"
HOLMEN 2.0"
FRENCH ISLAND 1.7"
WEST SALEM 1.3"
...MONROE...
TUNNEL CITY 2.1"
...TAYLOR...
MEDFORD 12.0 "
...TREMPEALEAU...
INDEPENDENCE 6.0"
OSSEO 5.8"
WHITEHALL 4.0"
ARCADIA 4.0"
IDUNA 3.0"
GALESVILLE 1.6"
...VERNON...
VIROQUA 2.0"
LA FARGE 1.2"
GENOA 1.0"
STODDARD 0.5"
Road conditions are snow covered across Western Wisconsin and roads are treacherous.
CLICK HERE for statewide road conditions
The low pressure system responsible for all this snow is moving to the northeast, and the winds behind have dramatically increased. We have already seen wind gusts to 40MPH and sustained winds between 25-35MPH. This is leading to areas of blowing and drifting snow. Damage to trees and power lines will continue to be a problem. The heavy, wet snow has accumulated on them and could lead to additional power outages and other issues.
Colder air has also moved into the area. Overnight temperatures fell through the 20s and into the 10s. And, it looks like the cool temperatures in the teens will be here to stay at least through the middle of next week.
WINTER STORM WARNINGS are valid until 6PM for Price and Sawyer counties with WINTER WEATHER ADVISORIES valid until 3PM across the Chippewa Valley and 6PM for most of the Coulee Region.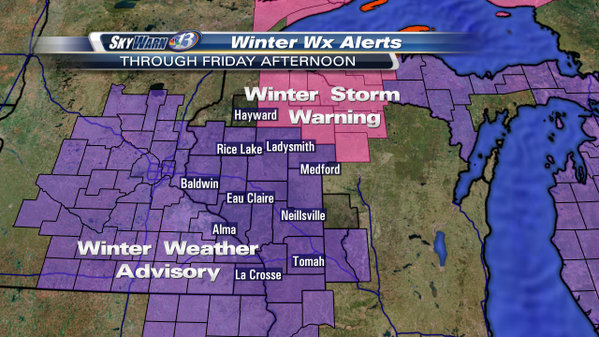 There have been some closings, cancellations and delays issued for Friday. You can see those by checking out the link below.
CLICK HERE for school closings/delays
You can stay up to date on the storm right here on weau.com along with future newscasts, SkyWarn 24/7 Weather and on our WEAU Facebook page and twitter pages.
CLICK HERE for the WEAU Facebook page
Follow us on Twitter for weather updates:
@weau13news
@darrentvwxguy (Darren Maier)
@WEAUHoffman (Matt Hoffman)
@TheWxMon (Monica Ott)
@WeathermanDrew (Drew Williams)
Here's several winter weather resources to check out including radar, road conditions, and other helpful information.
CLICK HERE for our INTERACTIVE RADAR
CLICK HERE for school closings/delays
CLICK HERE for statewide road conditions
CLICK HERE for instant info on watches/warnings/advisories
CLICK HERE for the Ready Wisconsin webpage
CLICK HERE for Wisconsin Emergency Management
CLICK HERE to upload storm pics to WEAU.com