Friday, December 9, 2016 Updated: 11:30 AM
**WINTER WEATHER ADVISORY in effect for Buffalo, Jackson, Juneau, La Crosse, Monroe, Trempealeau and Vernon counties from 4 PM Saturday until 9 PM Sunday**
**WINTER WEATHER ADVISORY also in effect for Houston, Winona and Crawford counties from 2 PM Saturday until 6 PM Sunday**
High pressure will be just to our west today, helping to finally relax some of these very persistent winds we have seen much of this week. A light westerly breeze can be expected along with more clouds than sun and a few flurries. Temperatures won't rise much, staying in the teens all day. This is actually colder than normal by more than ten degrees! Usually this time of year we are seeing highs in the upper 20s.
We are still looking at some snow for the weekend, but forecast models still seem to be in some disagreement as to where the highest amounts of snow will occur, and just how far north this will come. Low pressure along a front is expected to develop in the Plains and track east, but this first wave looks to remain rather weak, while sliding to our south. A swath of snow will develop north of the low, heading through Southern Minnesota on Saturday and arriving in Western Wisconsin by later afternoon or evening. The Chippewa Valley should get into this area of snow, while our southern areas will have a better chance to be located closer to any deeper moisture. Mainly light snow should continue at night, exiting sometime on Sunday. This is where more question marks arise. There is some indication another wave of low pressure will quickly develop and ride up south of the area sometime Sunday or even early Monday. With still many unanswered questions, it remains difficult to have high confidence in any specific amounts, but current thinking would bring at least a general 1-3" swath for much of our area, while a 3-5" range can be expected in the vicinity of La Crosse and points south. This would be total through Sunday.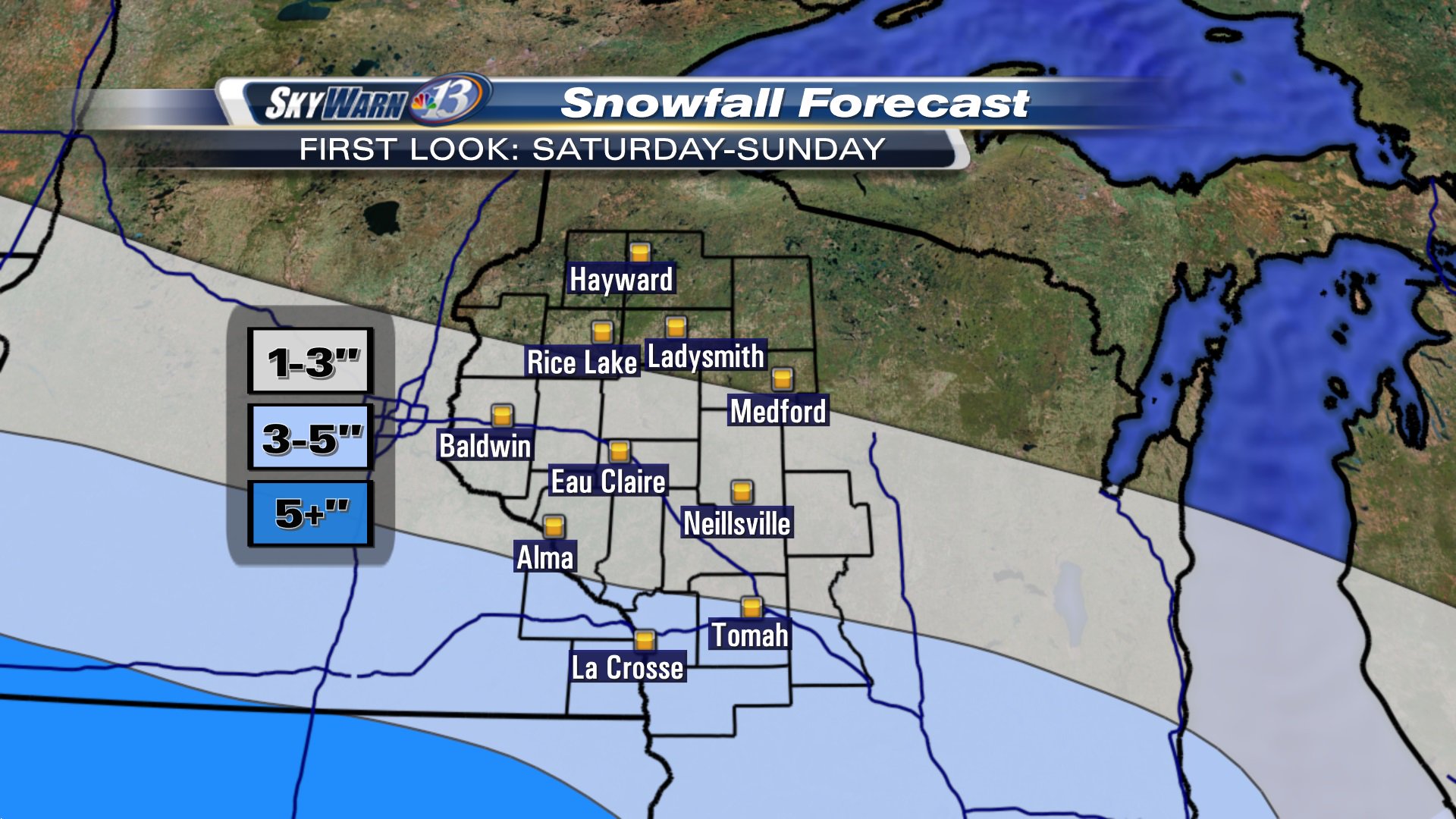 This will be a light, fluffy snow, so even with limited moisture, snowfall ratios will be on the higher side. Again, this will likely change over the next 24 hours, until we see better agreement and consistency on how this system is resolved. We'll be watching this closely as amounts may shift north or south. Highs will stay in the upper teens Saturday and return to the low 20s Sunday. Once any snow exits, the rest of Sunday will remain mostly cloudy.
Still a slight chance of snow Monday, but once any snow exits, an arctic front will arrive, ushering in the coldest air mass we've seen since last winter. Arctic high pressure will slide south from Western Canada and into the U.S. for much of next week. This will drop temperatures way below normal and we will have at least a few days with highs only in the single digits and likely our first sub zero nights of the season.
-Meteorologist Monica Ott