LATEST FORECAST DISCUSSION
Meteorologist: Darren Maier
**BLIZZARD WARNING in effect for Winona County from 9 PM Friday night until 6 AM Saturday.**
**WINTER STORM WARNING in effect for Barron, Chippewa, Dunn, Eau Claire Pepin, Pierce, Rusk, and St. Croix counties from 9 PM Friday until 6 AM Saturday.**
**WINTER STORM WARNING in effect for Buffalo, Clark, Jackson, Taylor and Trempealeau counties valid from 12 AM Friday until 6 AM Saturday.**
**WINTER WEATHER ADVISORY in effect for Polk county from 9 PM Friday until 6 AM Saturday.**
**WINTER WEATHER ADVISORY for Price, Sawyer and Washburn counties from 12 AM Friday night until 6 AM Saturday.**
**WINTER STORM WARNING in effect for Houston, Juneau, La Crosse, Monroe and Vernon counties valid from 12 AM Friday until 6 AM Saturday.**
A fairly quiet start to the night, but conditions will be changing in the coming hours with the arrival of a winter storm. The leading edge of precipitation will move in from the southwest through the overnight, first in our southern counties, then lifting north into the Chippewa Valley overnight. Temperatures continue to slowly cool but it is still mild enough in southern areas that precipitation will likely start as rain. A later start further north will lead to snow as the primary precipitation type. Northeast breezes will also increase a bit more as temperatures drop down into the upper 20's by early Friday. An accumulation of 1-3" is expected for the morning commute in the general Eau Claire area with a few more inches in our southern areas.
The storm will continue to come together as it tracks through the Plains overnight and into Southeast Iowa tomorrow. Snow will continue to fall on Friday, though there may be a few lulls that develop. The overall track of the low has continued to settle on a more southerly trajectory and this has now shifted our highest forecast snow totals to the south of Eau Claire. This doesn't mean we won't have impacts, in fact there will still be snow covered roads and with increasing winds, blowing and drifting along with reduced visibility. Any steadier bands south of Eau Claire down into the La Crosse area will have the potential to produce 1-2" per hour snowfall rates and there could even be a bit of thunder and lightning in any heavier bands. The low will then be tracking to the northeast and away from the area going into Friday night. The backside will continue to produce some accumulations into the night before exiting by daybreak Saturday.
There will likely be a tight snow accumulation gradient from north to south with this storm, meaning some of our northern areas may only end up with a few inches, while just a few counties south, more than six inches will fall. Again, with the more southerly track, the highest amounts are likely to occur between Eau Claire and La Crosse, where some places could be reaching into the double digits before it's over. Winds will be sustained between 15-25 mph with gusts up to 35 mph possible. This will blow and drift the snow around, creating poor driving conditions into tomorrow night.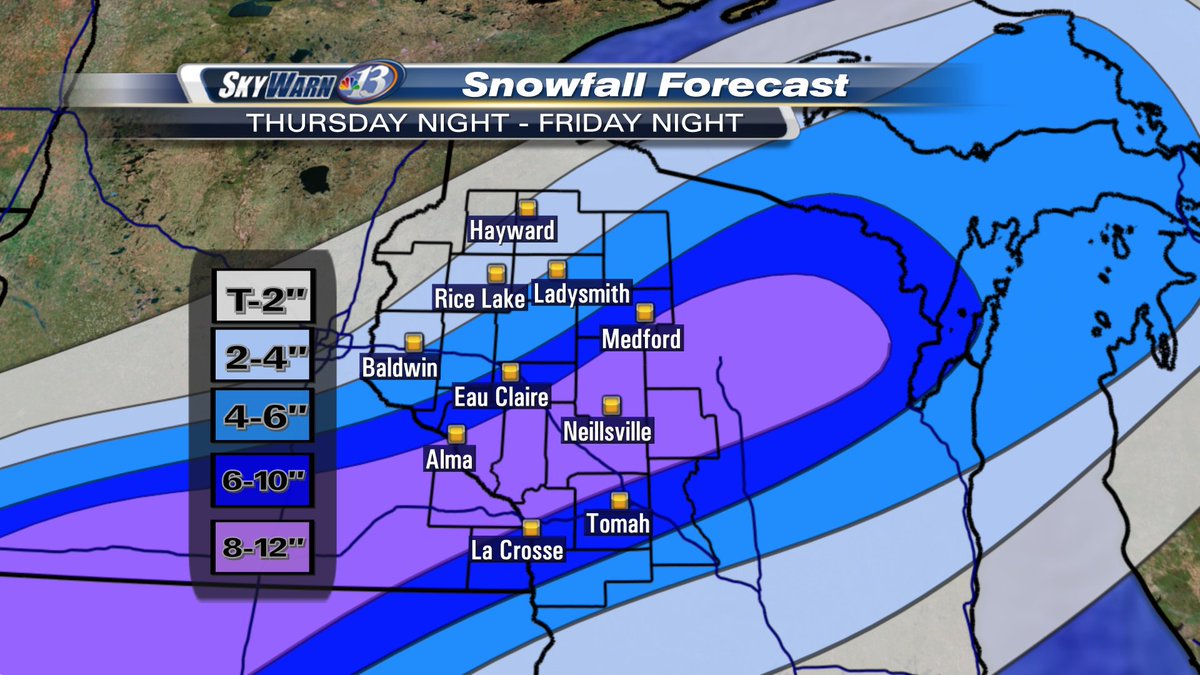 The weekend will be much quieter as weak high pressure arrives. This will return a mix of sun and clouds on Saturday and it will still likely be breezy behind the departing storm. It will also be colder with highs in the upper 20's. The next weak front will be sliding down from the north on Sunday, bringing more clouds than sun and perhaps a few flurries. Highs will be around freezing.
We will continue to keep you updated on this significant winter storm here on WEAU.com as well as on our daily newscasts.