Leading up to the Memorial Day Weekend, the first tropical storm of the season developed in the Eastern Pacific. The name was Amanda. Amanda would strengthen rapidly from a tropical storm to a high-end category 4 hurricane with maximum sustained winds of 154 mph. That would make Hurricane Amanda the strongest May hurricane on record in the Eastern Pacific. Below is a look at the satellite image around peak intensity of the storm.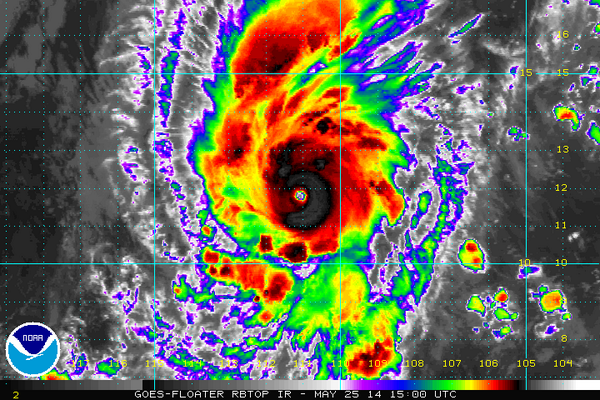 As the storm moved north over the weekend, it moved into a less than favorable environment due to higher wind shear levels. However, just this morning Amanda showed a little fight. It has re-strengthened to a category 3 hurricane with winds of 125 mph. This intensification is only temporary, wind shear and cooler waters will gradually weaken Amanda in the days ahead. While impressive, fortunately this record-breaking storm didn't impact any land areas. Below is a look at the forecast for Hurricane Amanda. The next name on the list for the Eastern Pacific is Boris.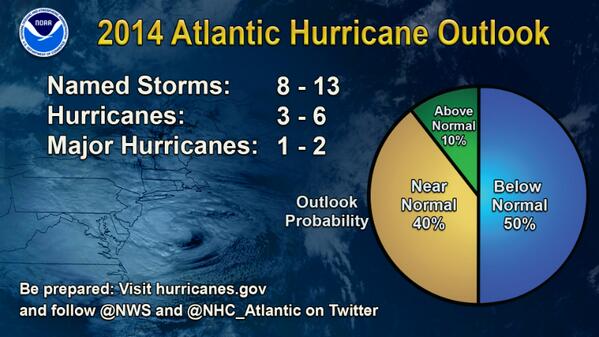 Last week, NOAA issued their forecast for the 2014 Atlantic Hurricane Season. The National Hurricane Center predicts 8 to 13 named storm with 3 to 6 becoming hurricanes and 1 or 2 of those becoming a major hurricane. The NHC is forecasting a 50% chance of a below normal season and a 40% chance of a near-normal season. The less than busy forecast for the Atlantic is due to a developing El Nino in the Pacific. El Nino tends to increase wind shear over the Atlantic making tropical cyclone development more difficult.
Hurricane season for the Atlantic will officially begin on June 1st. The first name on the list is Arthur. Below is a list of all the names for the 2014 Atlantic Hurricane Season.