A major winter storm is pounding the southeast United States today. The low pressure system is developing and will become a Nor'easter tonight and roar up the East Coast Thursday into Friday. Winter Storm Warnings extend in the pink from Alabama all the way up to Maine.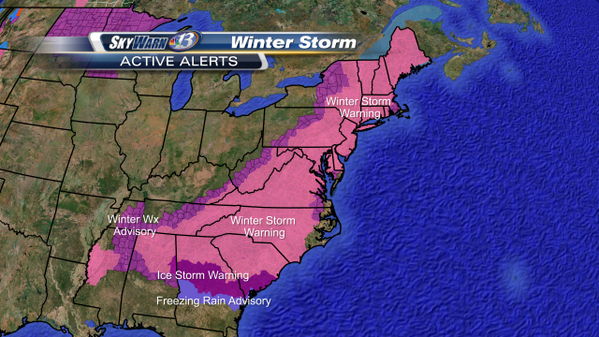 Parts of Georgia and the Carolinas are under Ice Storm Warnings in the dark purple. That's where as much as an inch of ice accumulation is possible through tonight. The entire state of South Carolina is under a State of Emergency due to power outages and dangerous road conditions. As of this evening, more than 350,000 customers were without power in the South. Thousands of flights have been canceled due to the storm. Atlanta was effectively shut down due to the storm. They're hoping to not relive the madness from last month. Here's a look at forecast snow and ice accumulation from the National Weather Service.
Farther north from Atlanta, the Raleigh, North Carolina area is being pounded by snow and ice. This part of the country doesn't have the infrastructure to pre-treat the roads. So even a small layer of snow can compact when cars travel on it and it forms a layer of ice that can make it impossible to move. Check out this video of the travel troubles going on in North Carolina.
I have a cousin who lives in the Raleigh area. She was telling me that it was a nightmare trying to get home. Here's a photo she took of abandoned cars and slid-ins on her 3.5 hour trip home from work. She said it was the scariest drive she's ever been on…and she's originally from Minnesota.
It's not all snow though that's the problem. Where there's some warmer weather in Florida, this storm system is brining severe weather. There have even been a few tornado warnings.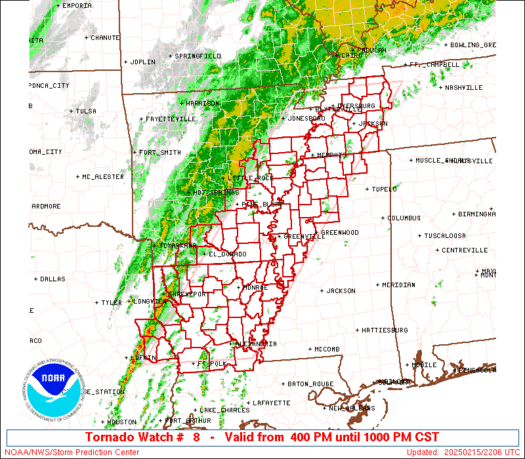 Into tomorrow attention will turn up the east coast where heavy snow and wind will pound the coast and impact all the major cities including Boston, NYC, Philadelphia, and D.C where most areas will see at least 6" of snow. Parts of the Appalachian Mountains could get up over a foot of snow.