As you all know, it's been a brutally cold winter here in Western Wisconsin this year. From plenty of snow to days on end of sub-zero temperatures, Old Man Winter has been relentless. Only just in the last day or so have we finally seen temperatures take a nice turn for us here in Western Wisconsin. Today (Thursday) we actually made above average. It was only by a degree, but hey, that's progress. Just yesterday we ended a 17 day streak of low temperatures that were at or below zero. Below is a look at the high and low temperatures in Eau Claire during the first 12 days of February.
During the first 12 days of February our average temperature was only -1.0 degrees. Wow! That is a staggering 17.8 degrees below normal! On the morning of February 11th, we hit our coldest temperature of the season so far by bottoming out at -25 degrees.
December and January were very cold as well. As this chart below shows, the 2 month average (mean) temperature ending January 2014 tied with 2009 for the coldest average temperature since 1984. This December and January rank as 7th coldest in 123 years of record keeping in Eau Claire.
So without a doubt this will rank as one of our colder winters by the end of February. There's a myth that says after a cold winter like this one, the following summer will be a hot one. It's an old myth and just recently the La Crosse National Weather Service did some research to investigate this optimistic myth.
For Eau Claire, the NWS went back through over a 100 years of temperature records dating back to the 1890s. Meteorologist Jeff Boyne who did the study took the top third of the coldest winters through all the years in the temperature records. Those coldest 36 winters were taken and the following summer from June through August were examined.
Here's how those 36 summers broke down. Of the 36 summers, only four were considered hot summers. Twelve summers were near-normal for Eau Claire, but ominously over half were actually cold summers. So based on climatology, it's more likely that after a cold winter like this…this summer will be either near normal or colder than normal.
So you may be curious what method they used to determine whether these 36 summers were cold, near normal, or hot. He basically divided them into each category based on their average temperature from June through August. The long term average summer temperature is 69.4 degrees for Eau Claire. Near-normal summers had an average temperature of 68.4 to 70.3 degrees. Hot summers had an average temperature of 70.4 to 74.5 degrees. Finally, cold summers had an average temperature of 64.5 to 68.3 degrees.
It's not just Eau Claire that saw this trend. The National Weather Service examined several other Midwest cities and the same results were found. Check out the graphic below which further debunks the myth that a very cold winter will lead to a hot summer.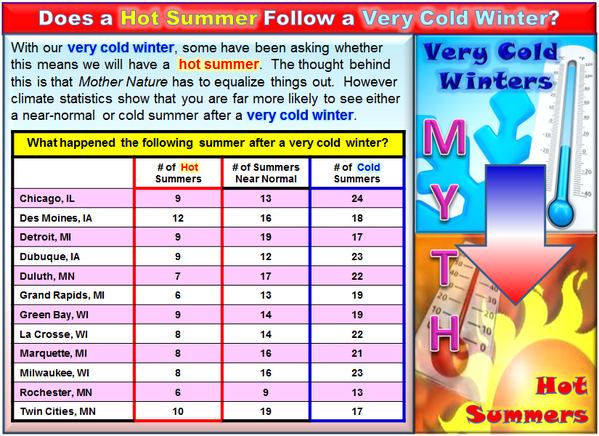 It should be said that this research doesn't mean absolutely that this will NOT be a hot summer. It has happened before after a cold winter. It also doesn't mean that highs this summer wont climb into the 80s and 90s. It just means that OVERALL temperatures during the summer after a very cold winter tend to be either near-normal or on the colder side of normal based on what's happened in the past. A lot of times these large scale patterns develop like the one that has dominated this winter and just continue. Just because the seasons change, it doesn't mean that the pattern will change as well. That's likely why it's hard for the following summer after a cold winter to be very hot.
For example, take a look back at the summer of 2009. The winter of 2008-2009 was cold! If you remember from the graphic above, December and January that season tied with this year for the 7th coldest December-January average temperature. Do you remember what that summer was like nearly 5 years ago? It may be hard to remember because there wasn't much of a summer.
There were only 2 days all summer in the 90s and both were together in June. Meanwhile, there were 4 days that month in the 50s including the last day of the month. The following months of July and August were on the cooler side as well with several days in the 60s and absolutely no 90s. July was exceptionally below average.
Temperature Departure From Average During Summer of 2009:
June: -2.1 degrees
July: -5.8 degrees
August: -2.5 degrees
Will this summer be similar to 2009? We'll have to see but no matter what the outcome at least it will be a lot warmer than what we've been dealing with for the last couple months.