It was quite the weekend of swings with our weather here in Western Wisconsin. We started off on a wintry note with a late season winter storm that dumped some impressive snowfall amounts over parts of Western Wisconsin. With this storm, not only was there snow…but there was also ice.
Here in the Eau Claire area, the storm started out as freezing rain. Trees, power lines, and many other surfaces were covered in a layer of ice. Here's a picture of the ice accumulations on a tree in Eau Claire.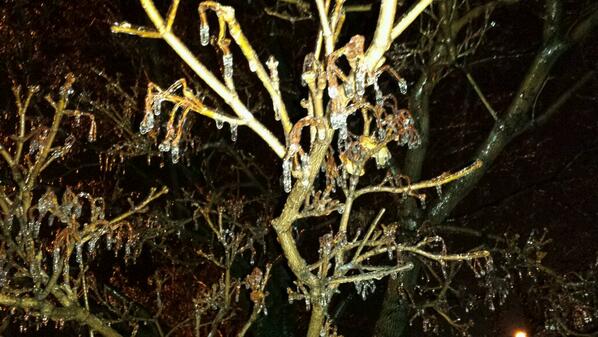 The ice and heavy snow that followed was enough to cause tree limbs to come down and even create power outages.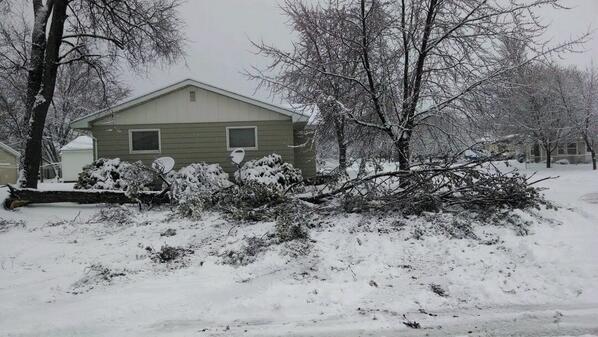 The heaviest snow band set up just west of the Twin Cities and went up through northern Wisconsin where places picked up over 10" of snow. Eau Claire picked up 7.6" of snow. That brings the total for this season up to 73.3" in Eau Claire. That's well over 2 feet above normal.
The good news was our weather improved immensely as the weekend went along. Highs topped out in the 40s on Saturday. On Sunday, the rest of the snow pack was finished off with temperatures surging into the 60s for many communities. Below is a look at the high temperatures from yesterday. Eau Claire topped out at 62 degrees, which was the first 60 degree day for the city since back on October 27th. It was pretty hard to remember just a couple days prior there was over 6 inches of snow on the ground.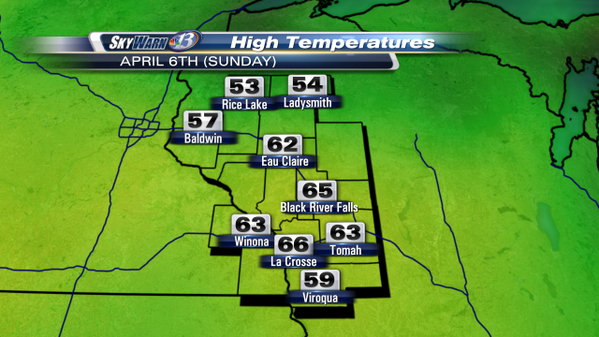 The weather was fantastic yesterday. It truly appears that spring has finally sprung for here in Western Wisconsin. Even warmer temperatures are in the forecast come Wednesday. Some places may even flirt with 70 degrees!