It may be kind of surprising to find out that Hawaii doesn't normally see a lot of tropical activity from year to year. On average, four to five tropical cyclones occur in the central Pacific each year. Most of those originate from the eastern Pacific and Hawaii most times tend to miss out. Below is a look at all the tropical depressions, tropical storms, and hurricanes that have passed within 100 miles of the Hawaiian Islands since 1949. There are only a total of twenty. Of those twenty, only two hurricanes and one tropical storm have made landfall in Hawaii.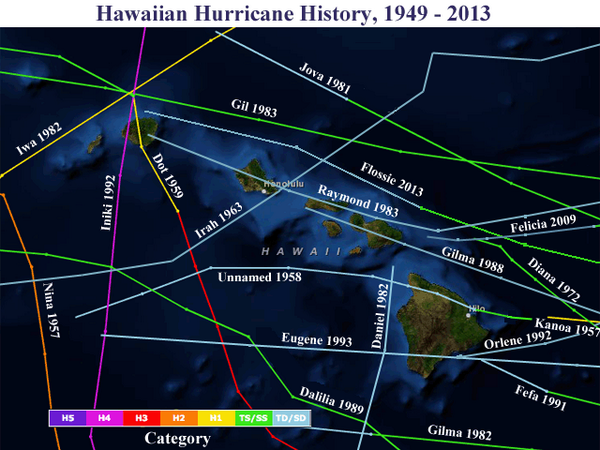 Notice that most of the tropical cyclones that have impacted the islands from the east have been weaker. Only one tropical storm has hit Hawaii since 1949 and that was from the east. That was an unnamed storm back in 1958. The reason that these cyclones tend to be weaker is the fact that the air just east of Hawaii tends to be drier, sea-surface temperatures tend to be cooler, and wind shear is usually higher. All of these can conspire to weaken a potential tropical cyclone heading for Hawaii. Hurricanes tend to impact the islands when they come up from the south where there is more favorable conditions including warmer waters.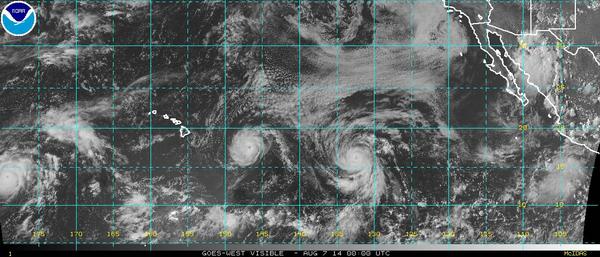 Meanwhile, this year, Hawaii is bracing for double-trouble. Two hurricanes are currently churning towards the islands. The first hurricane, Iselle, will have the bigger impacts and a good chance of making landfall on the big island. Hurricane Iselle, has shown some improvements today and is fending off the dry air surrounding it. It's possible that Iselle could make landfall as a weak category 1 hurricane before weakening to a tropical storm. Landfall should occur sometime on Friday. Wind and waves will be a good concern, but the main concern will be flooding rains for the islands. Here's a look at the track for Hurricane Iselle.
Behind Hurricane Iselle is Hurricane Julio. Hurricane Julio will likely weaken to a tropical storm well before impacts are felt in Hawaii. It looks like the impacts for Hawaii will be far less as the storm will likely track north of the islands.