Earlier in the week, a big winter storm hit the Ohio River Valley, Mid-Atlantic, and then up through the Northeast. The storm dumped a whopping 13.5" of snow in Philadelphia while Central Park in New York City shoveled out from 11" of snow. Washington D.C. picked up 3.8" of snow and put an end to a bit of a snow drought for the city. The last +2" snow event was nearly 3 years ago.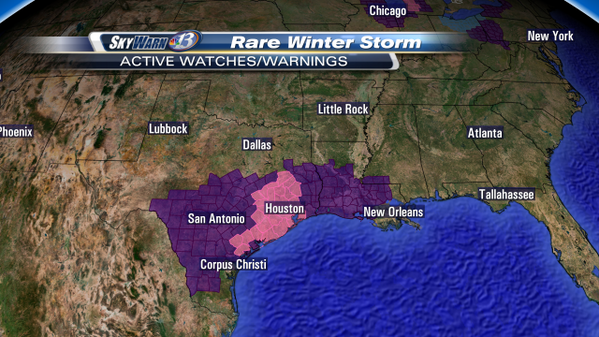 Nearly three years ago was also the last time the Houston area was under a Winter Storm Warning. Well…that's changed today. The pink color shows the areas under the Winter Storm Warning. The purple is a Winter Weather Advisory that runs from the Rio Grande River to the New Orleans area for wintry weather expected tonight into Friday. These advisories and warnings have different qualifications than for us up here our part of the country. Normally, a Winter Storm Warning in Wisconsin would be issued for forecast snow of 6" or more. This warning is in effect for ice accumulation of .05" to 1.5" with snow and sleet accumulations of around 1". Remember, these people don't see this kind of weather that often. What may seem like the smallest amounts of wintry weather can create a big issue down there. The map below is how many days since the last Winter Storm Warning was issued across the country.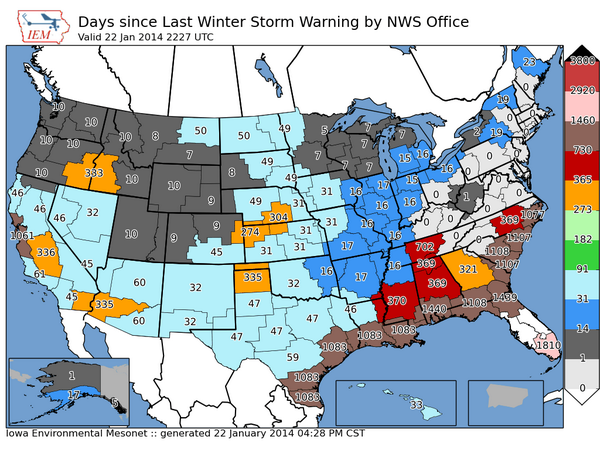 Meanwhile, they were counting snow in feet on the south shore of Lake Michigan. After the latest Arctic cold front came through at the beginning on Monday, north-northwest winds picked up over Lake Michigan and dumped some impressive lake effect snow on the lake shore of Illinois and Indiana. A heavy band of snow set up first across the north side of Chicago and would eventually shift south over the next day.
Above is a look at the radar image on Tuesday morning at 8:25 AM from the Chicago National Weather Service Office. The heaviest snow is with that narrow, green band between East Chicago and Gary, IN. Snowfall rates in that band were as high as 1-4" per hour. Here's a look at 2-day snowfall totals from the lake effect snow from the Chicago NWS.
In general near the lake most places picked up 4-6". However, there were locally higher amounts. Gary, IN picked up 18" of snow and the Griffith area of Indiana saw between 20" to 24". These places basically saw a lake effect blizzard with pretty much no visibility.
Lake effect snow is caused by cold, Arctic air blowing over the warmer lake waters. The winds pick up the moisture from the lake and condense it to form clouds and snow. If conditions are right, the snow can be very heavy at times and dump some stunning snow totals.
The lake effect snow has continued today in that area hit hard from the past few days. The snow caused a massive pile-up near Michigan City, IN on I-94 Thursday afternoon. At least 15 semis were involved in the crash among many other vehicles. Here's a look at a photo from our NBC affiliate in Chicago. I've also included a web story to check out with more on the wreck including some video. Unfortunately, two people were killed from this scary crash.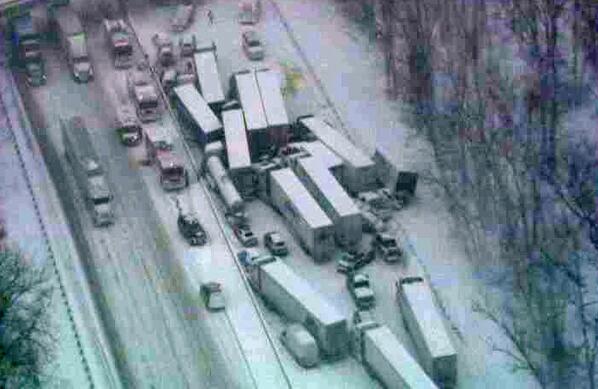 Massive Crash in Indiana Kills 2 People
I wish I could say things are going to get better in the days ahead, but that's just not the case. More clippers will bring more snow and lake effect snow to the northern tier of states through the weekend. And then another huge Arctic blast will impact the eastern two-thirds of the country for early next week. It looks fairly similar to what we experienced earlier this month with those frigid days and nights. I guess this awesome winter just keeps trucking along.