We've had plenty of precipitation lately in Western Wisconsin but folks out in California have not been as lucky. The lack of rain is turning into a serious issue and the drought in the state is spreading. This could have big consequences for the area here in 2014.
Here's today's updated drought status for California. The extreme drought has expanded around 35 % in just the last week. Only a little over 1% of the state is actually free of any drought or abnormally dry conditions.
The worsening drought is also leading to record warm temperatures for January in the state. On the flip side though, it's made for amazing vacation weather for people trying to escape the cold in other parts of the country. You know, like here in Western Wisconsin. Here's a look at high temperatures from Wednesday (January 15th). San Francisco topped out at 73 degrees. That's the warmest all-time January record high, which beats the old record of 72 degrees set back on January 13, 2009 and January 24, 1948. Other parts of the state actually climbed into the 80s. A few temperatures were warm enough to possibly be records in the summer like in Monterey, CA.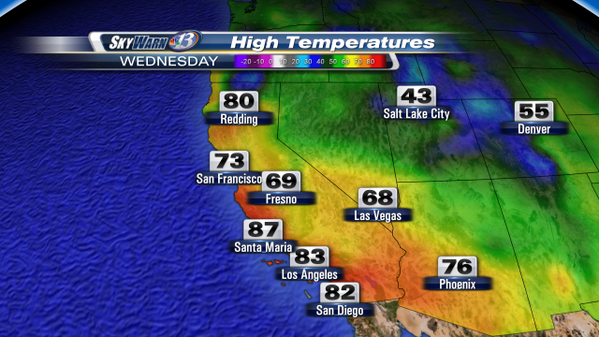 This was not the start to the year that California needed. The state had its driest year on record in 2013. Precipitation was 32.8% of average. The Rim Fire burned over 255,000 acres near Yosemite. It was the third largest fire on record in California. With a worsening drought, this year has the potential to be even worse for wildfires.
Hopefully today was not an omen. A wildfire got going today in the foothills to the northeast of Los Angeles. The fire burned 1,700 acres before being halted. Five homes were destroyed and 17 structures were damaged. Here's a satellite image of the fire from NASA.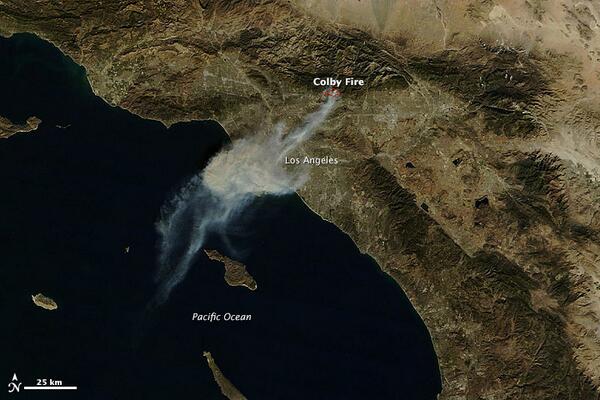 There isn't really any relief in sight for California. A big ridge of high pressure is sitting right on top of the area and is keeping things high and dry. The jet stream is way up into Alaska and Canada. This weather pattern looks to continue at least for the next 10 days, which will keep precipitation chances very sparse. It's likely by the end of the month this will be the worst January drought on record for California.