There wasn't a lot of hope for the month of March with the way it started. On the second day of March, Eau Claire recorded its coldest high temperature on record. Record-keeping goes back all the way to 1893 for Eau Claire. Since then though, temperatures have been steadily warming up, and this last Monday we topped out a gorgeous 50 degrees in Eau Claire.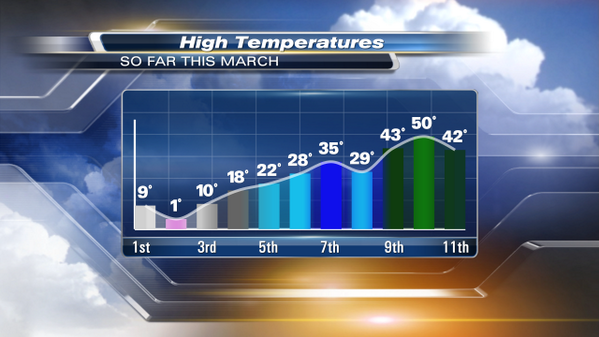 Below is a look at high temperatures on March 10th. It felt amazing after such a cold winter. Parts of the Coulee Region even made it into the mid-50s. Our average first 50 degree day is March 12th, so we were ahead of schedule on that. Here's a fun fact! Last year our first 50 degree day wasn't until April 24th. So that's kind of nice we didn't have to wait that long this year.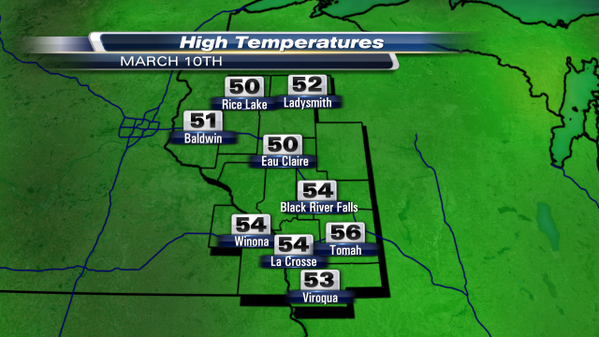 Our warmest March high temperature last March was only 45 degrees. So far this year, it's 50 degrees. These numbers pale in comparison to two years ago in 2012. I'm sure you remember that year fondly. Our warmest high temperature was 82 degrees! That ended up being the warmest March on record in Eau Claire.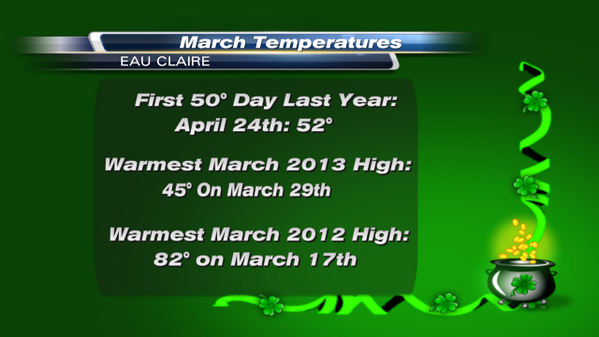 On March 11th, there was quite the temperature difference in the Midwest. In St. Louis, Missouri, temperatures soared into the low 80s. Meanwhile, not far north in Iowa temperatures were in the 40s and 30s. When you have such a big temperature difference that close together, you know you're going to get a big storm. Ignore that temperature reading for Traverse City. That's some bad data and way too balmy.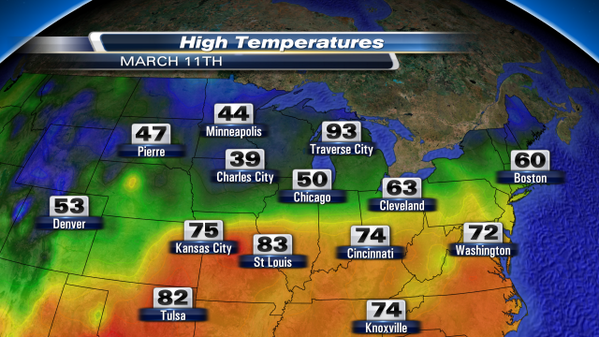 And that big storm will develop tonight bringing heavy snow to parts of the southern Great Lakes including Chicago, Detroit, and Cleveland. The storm will then move into New England for later in the week. Below is a look at the Winter Storm Warnings in pink and Winter Weather Advisories in purple. There's even Blizzard Warnings in parts of New York State including Rochester and Buffalo.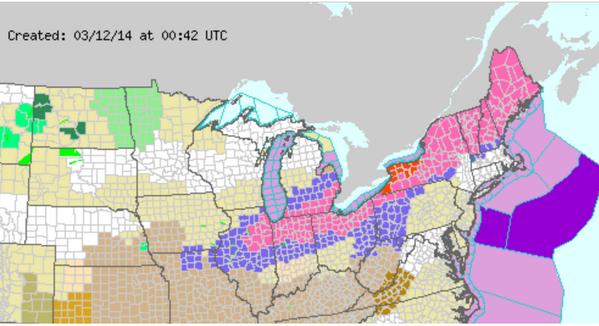 Unfortunately, winter is not done with us yet, but thankfully it slowly loosening its grip across the country.