We are starting to get into the busier months of the Atlantic Hurricane Season and with that being said…here comes Bertha. It was a hurricane yesterday but has now weekend as it has moved safely between the U.S. and Bermuda. Below is a look at Bertha from yesterday when it was a hurricane.
Yesterday morning the storm became the second hurricane of the 2014 season. Today it has weakened. Bertha is packing winds of 60 mph and is now making it's turn northeast. The storm is expected to stay in between the U.S. East Coast and Bermuda and eventually bring a glancing blow to Newfoundland later this week. Bertha will likely stay as a tropical storm for the rest of the week due to stronger wind shear. The only main impact that will be felt for East Coasters will be some higher surf.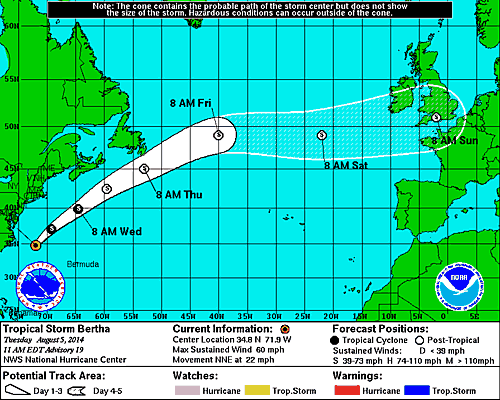 Meanwhile, the Eastern Pacific is even busier with a named storm that will likely be impacting Hawaii later this week. The storm is currently packing winds of 125 mph. It's name is Iselle and was a major hurricane yesterday with top winds of 140 mph.
Above is a satellite image of Hurricane Iselle from earlier Monday when it reached Category 4 status. Based on the image, Iselle has a large eye, a thick eye wall, great symmetry and a lack of spiral bands. This qualifies Iselle to be what's called an "annular" hurricane. It's a rare type of hurricane with the above characteristics I mentioned. Annular hurricanes tend to be stronger, stay at peak intensity longer, and weaken much slower than average hurricanes.
Hurricane Iselle is heading west towards to the Hawaiian Islands, but the good news is the hurricane will weaken by Thursday when it is forecast to hit the islands. The storm will likely hit the islands as potentially a strong tropical storm on Thursday night with the big threat being heavy rains for the islands. Regardless, Hurricane Iselle will have to be watched closely as it heads toward Hawaii this week.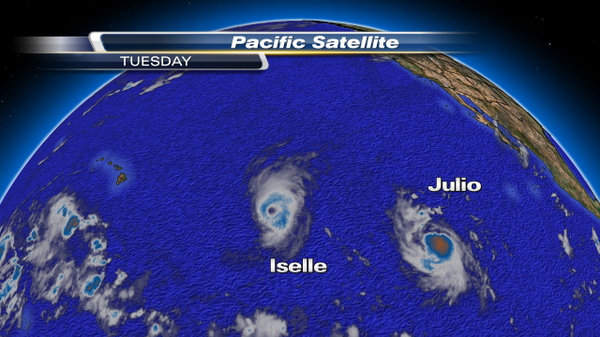 Behind Iselle, is an up and coming tropical storm named Julio. This system is expected to strengthen into a hurricane and has the potential to follow Iselle towards to the Hawaiian Islands.