We're coming off a record-breaking cold stretch here in Western Wisconsin that went back to the final days of February. After that final day of meteorological winter on February 28th, it was cold enough to end up tying this winter with the winter of 1903-1904 for the coldest winter on record. Meteorological winter consists of the months of December through February. It's easier to keep records going this route than using the astronomical dates for winter. So this record basically means that pretty much for everyone, this is the coldest winter you've ever had to live through. All the statistics and charts you'll see on this post are provided by the National Weather Service.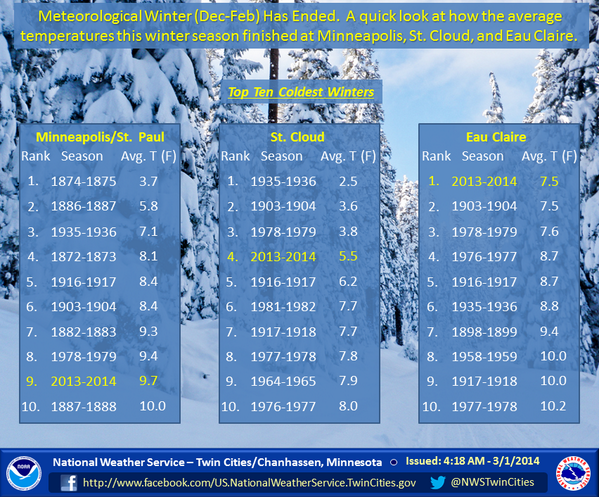 In La Crosse, this was the 5th coldest winter on record. The average temperature was 11.6 degrees. The coldest winter on record is still the winter of 1872-1873 with an average temperature of 8.3 degrees.
The most compelling thing about this winter is that we tied for the coldest winter on record with only one temperature record set in Eau Claire through the three months. We were able to get the record low just before midnight on February 27th. We got down to -22 degrees, which broke the very old record of -18 degrees set back in 1897. We got the top spot for this winter just because it was so consistently cold. Only three days during this winter were we able to make it to 40 degrees or higher. Over 90% of this winter has been spent below freezing in Eau Claire.
With how severe this winter has been, it has basically become what everyone talks about now. It's really hard to think about that just two years ago, we had just wrapped up the 5th warmest winter on record during the winter of 2011-2012.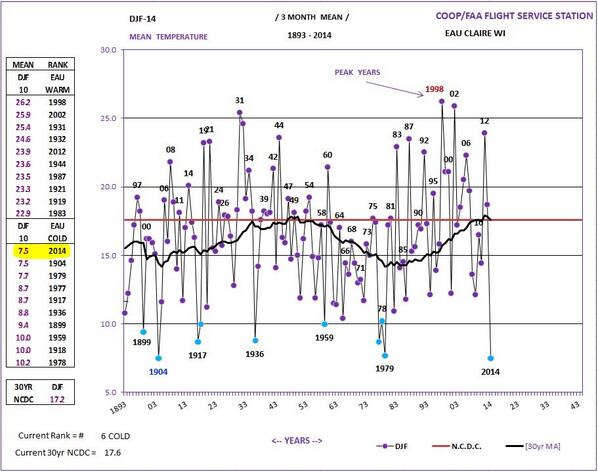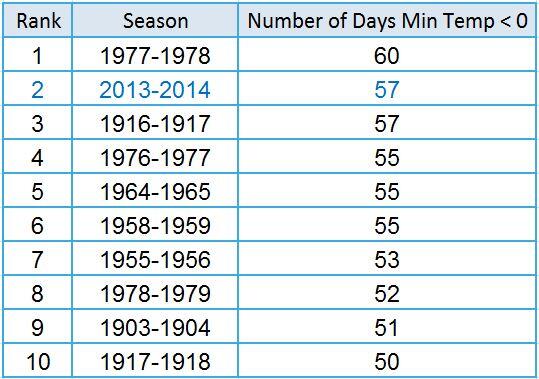 A big factor into why this winter was so cold was the number of sub-zero days in Eau Claire. As of March 3rd, Eau Claire has racked up 57 sub-zero days so far this cold season. In La Crosse, the count is up to 46 sub-zero days. This winter is currently tied with the winter of 1916-1917 in fourth place. However, this winter is third place for greatest number of double digit below zero days for La Crosse. There's been a whopping 27 days. That's well over half of those sub-zero days. It really speaks to how cold and obnoxious this winter has been.
Unfortunately, while the month and the season has changed, the temperatures and record-breaking have not. Yesterday on March 2nd, we only made it up to 1 degree for a high temperature. That not only broke the record cold high temperature for that day, but also it was the coldest high temperature for the month of March. The old record was 3 degrees set on March 2, 1943. La Crosse topped out at 3 degrees and tied the all-time March and meteorological spring record cold high temp set back on March 6, 1899.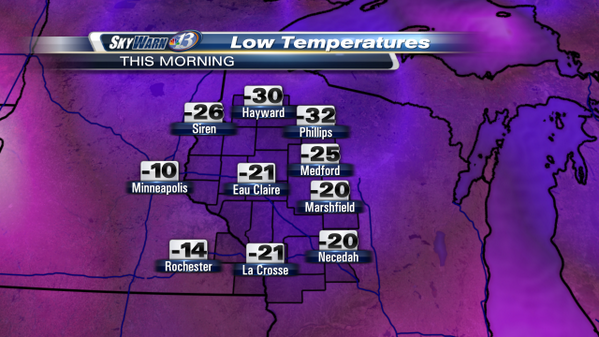 The frigid weather continued right into this morning…so did the record-breaking temperatures. Both Eau Claire and La Crosse dipped down to -21 degrees, and both cities absolutely demolished the record low temperature for the day. The old record was -11 degrees set back in 1943. It's kind of a rare thing to break a record by 10 degrees. Now La Crosse broke a record going back near 140 years. The old record was -13 degrees set back in 1875 and 1873.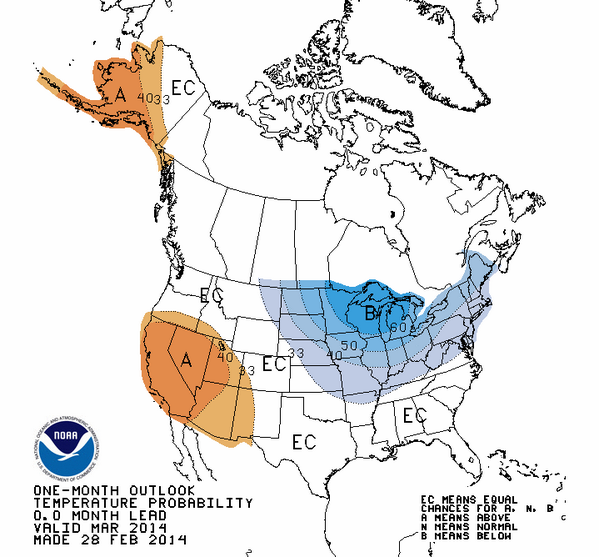 So you've probably read through this point and are thinking…well this is just depressing. True, it is. However, we do have some good news in the week ahead. Temperatures will steadily be warming up through the week with possibly highs around 40 by this time next week. While this is a great step in the right direction, temperatures will likely primarily stay at least below normal during the month of March. That's definitely what the Climate Prediction Center is betting on for March. In fact, they're projecting that the next three months will likely be below normal. It's got to get warmer at some point, but it looks like it will be a slow process. But hopefully this was our last blast of insanely cold Arctic air for this cold weather season.