As we get into the end of April and eventually into May, the severe weather season in the United States really starts to heat up and become very active. So far, fortunately, it's been anything but active when it comes to tornadoes in the U.S.
The modern era of tornado records began in 1950, and this year has now gone on longer than any other calendar year of that time-frame without a tornado fatality. The previous record was back in 2002 when the year's first fatality didn't occur until April 21st.
In terms of the number of tornadoes, 2014 has had the slowest start since 1953. Slightly less reliable records dating back to the 1870s would suggest this is the quietest start to the tornado season since 1915. Of the tornadoes we have seen this spring, they've all been fairly weak. This is the longest we've gone into the year without an EF-3 tornado since 1950.
So what's behind this tame start to the season? Well, with so many blasts of Arctic air even into the spring months, there's been a lack of warm, moist air needed to create tornadoes. Many times, the cold air has made it all the way to the Gulf of Mexico, effectively, closing down any chance for tornadoes.
Unfortunately, the tornado season looks to ramp up quite a bit this weekend. The Storm Prediction Center has highlighted three days with the potential for severe weather this weekend, Saturday through Monday. There is a big concern for a significant severe weather outbreak over the course of these three days. The SPC is highlighting the possibility for strong tornadoes during these days as well.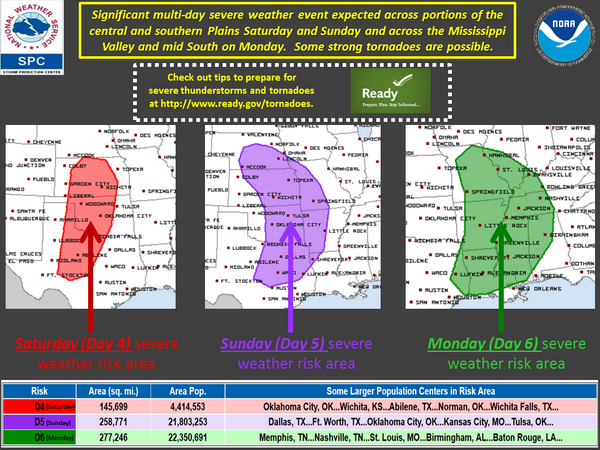 Hopefully, folks down in these areas are prepared and haven't let their guard down by this quiet start to tornado season 2014.