It's been a rough several days down in the southern United States. What had been a record quiet and safe start to the tornado season quickly grew violent and deadly starting this past weekend. Hardest hit on Sunday was Arkansas. A long-tracked EF-4 tornado went through the towns of Mayflower, Vilonia and up towards El Paso. The tornado was on the ground for an impressive 41.3 miles.
Damage was impressive and several people were killed as a result of the tornadoes in Arkansas. Here is some damage video taken from a drone flying over the wreckage. The video is from Brian Emfinger.
Our own Amanda Tyler interviewed an Eau Claire native in Mayflower, AR whose home was destroyed by the tornado. Below is a link to that story.
Family with ties to Eau Claire survives tornado, dealing with aftermath
It got even worse on Monday with Mississippi and Alabama being hardest hit. There were over 70 reports of tornadoes that day. In all over the past few days, 38 people have been killed in 8 states from this violent weather.
These chasers got some incredible video of a large EF-4 wedge tornado near Louisville, MS. This was one of the strongest tornado of the multi-day outbreak. In all there were four EF-3 tornadoes. The video below credited to BasehuntersChasing.
Yesterday, not as many tornadoes touched down, but heavy rain led to some historic flooding in parts of Florida. Below is a radar estimate of rainfall totals between Monday evening through Wednesday morning. Some areas picked up at much as 22-26" of rain leading to bad flooding in coastal Alabama and the western panhandle of Florida.
Pensacola, FL was hit pretty hard with the flooding. Here's a picture of a Burger King surrounded by several feet of water.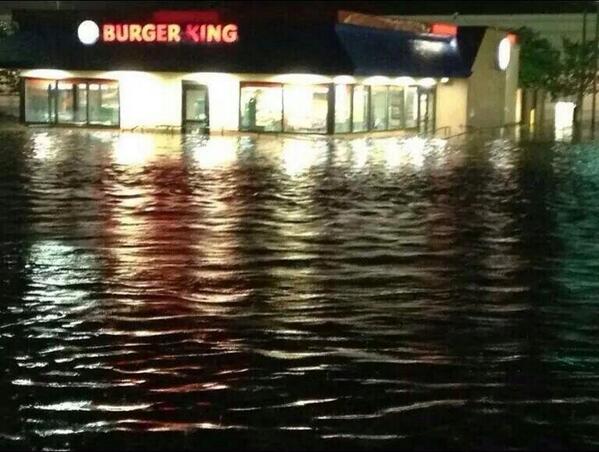 Fortunately, after today, the weather looks to calm down in the days ahead.