A major winter storm made quite the mess across Western Wisconsin Thursday into Friday. The storm dumped a large swath of 6-12" snow across a good chunk of the viewing area. The snow was so heavy and wet it compacted very easily and kind of cut back on snow totals for our area. The highest snow totals reported were up in Rice Lake and Clear Lake that both reported a foot of snow. Here in Eau Claire we picked up 7.8" of snow. Lesser amounts the farther east and south you go. Here's a look at a map of the snow totals across the region. There's also links to specific snow reports that were collected by the local National Weather Service Offices.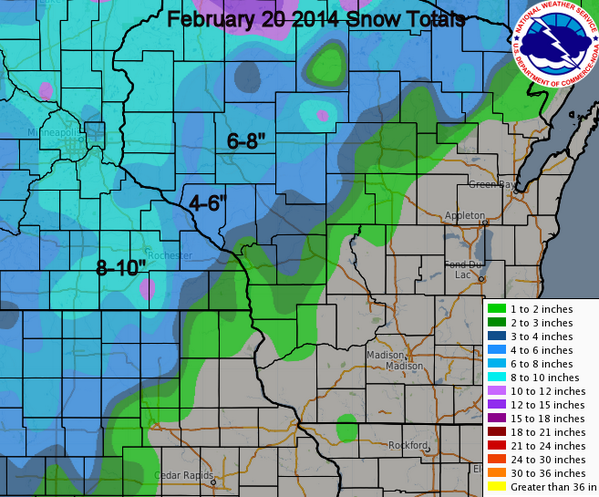 (Courtesy NWS)
The snow moved in by mid-afternoon and was very heavy for the evening commute with snowfall rates of 1-2" per hour and visibilities down to less than ¼ mile. Here's a radar loop from the National Weather Service starting at 8 AM and running until 8:30 PM on February 20th. This storm system was so strong that it produced some thunder snow. There were several reports Thursday afternoon and evening.

(Courtesy NWS)
Although the snow was lighter, it continued through the night. Unfortunately, the winds picked up leading to blowing and drifting snow right into Friday morning. Winds were sustained between 20 to 30 mph with gusts over 40 mph here in Western Wisconsin. The poor road conditions canceled or delayed classes for many school Friday morning. Below is a look at the pressure field associated with the low. The low bombed out and strengthened rapidly as it moved into Wisconsin. The colored areas represent the strong winds associated with the low.

(Courtesy NWS)
The wind also caused a problem because the snow was so heavy and wet, it caused many tree limbs to fall and left tens of thousands of people in the dark due to power outages. Here's some viewer pictures that were sent in of the snow that fell.

(Birchwood, WI)

(Cadott, WI)

(Eau Galle, WI)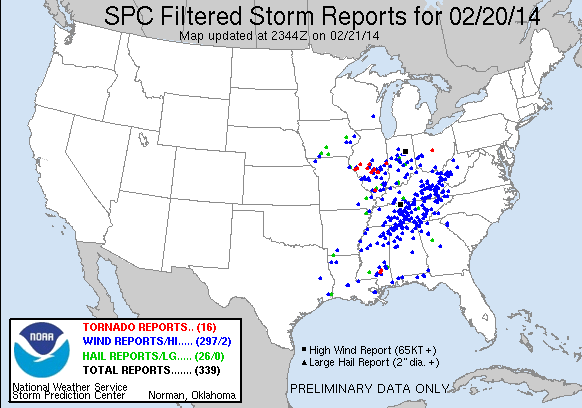 While we were on the cold side of this storm, areas farther south and east were on the warmer side. This storm brought a line of severe storm across the central U.S. Here's a look at storm reports above. There were 16 reports of tornadoes and many of those occurred in Illinois. There was even a hail report in eastern Iowa. This is further evidence that this was a very strong low pressure system. Also, at 9 PM on the 20th, pressure was 985.7 mb at La Crosse. That was the 5th lowest pressure reading for February and the lowest February pressure since 2/25/2001 of 984.9 mb. The lowest February pressure was- 971.9 mb on 2/28/1902.
After the February 20th & 21st winter storm, our snow total for the season is now up to 58.9". That's over 2 feet above normal! Our current snow depth is 21". As you can see above, there's plenty of snow to make an 11 foot snowman. This was sent in from Drew in Durand.
Hope you enjoyed the milder weather earlier this week. Colder weather is here to stay at least through the rest of this month. Next week average highs climb above freezing but our actually highs will likely only be in the single digits. Brrr!