Littering Leads DNR, Partner Agencies To Case With Multiple Charges
Privileges Revoked, Restitution Ordered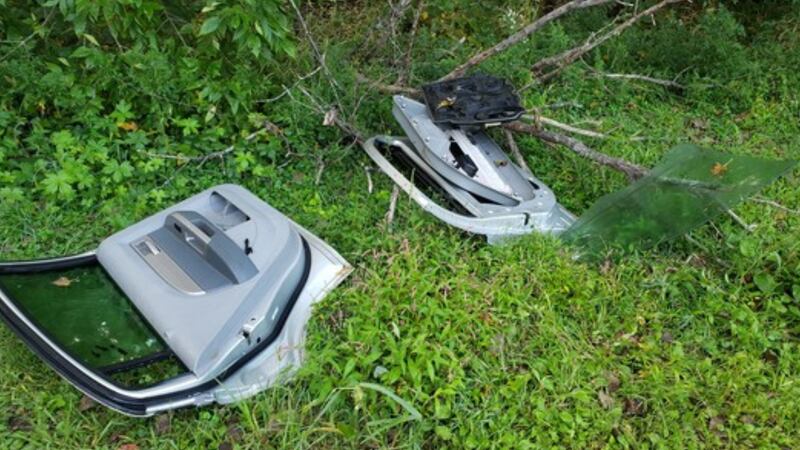 Published: Mar. 13, 2023 at 12:18 PM CDT
MADISON, Wis. (WISCONSIN DEPARTMENT OF NATURAL RESOURCES PRESS RELEASE) - The Wisconsin Department of Natural Resources (DNR) and partner agencies announce the closure of a case with multiple violations, including attempted theft and illegal hunting.
The investigation began in early September 2022 as a littering case. DNR Wardens on patrol for the opening day of teal and early goose season discovered two dumped car doors near a popular boat landing in Trempealeau County. A suspect was quickly identified, and DNR wardens contacted a detective in Trempealeau County to learn more about the individual.
"We thought this was a simple littering case, but it morphed into so much more," said DNR Conservation Warden Meghan Jensen.
The suspect was also later connected to an attempted break-in of self-registration payment lock boxes at Perrot State Park and cut locks at a storage unit at a state forest.
DNR wardens contacted the suspect, a Rockland man, regarding the illegal activities and advised that he faced enforcement action. A few weeks after their initial contact, wardens learned the individual was being investigated by the La Crosse County Sheriff's Office for being a felon in possession of a firearm, and deputies informed DNR warden of possible illegal deer hunting activities at that time.
The suspect was then located archery hunting for deer on the La Crosse River Bike Trail, a public property not open to hunting. He was found hunting without a license and during a period of suspension, and while hunting over illegal bait. He had also harvested an antlerless deer but failed to recover it.
He was arrested by the La Crosse County Sheriff's Office after the contact since he was a felon in possession of a firearm. Additionally, the man's vehicle was impounded by Trempealeau Police Department since the new doors on his vehicle were stolen from a salvage yard in Trempealeau.
"We truly would not have gone as far as we did without the cooperation and communication between agencies," said Jensen. "This is a prime example of the importance of interagency cooperation."
DNR wardens worked with DNR staff across multiple programs as well as the Trempealeau County Sheriff's Office, Trempealeau Police Department, Onalaska Police Department, La Crosse County Sheriff's Office and the county district attorney's offices in both La Crosse and Trempealeau counties to lead to a successful prosecution.
The court imposed several sentencing conditions for the man's convictions, including six months of jail with five years of probation, letter of apology to Perrot State Park, restitution and revocation of DNR privileges for three years.
Copyright 2023 WEAU. All rights reserved.